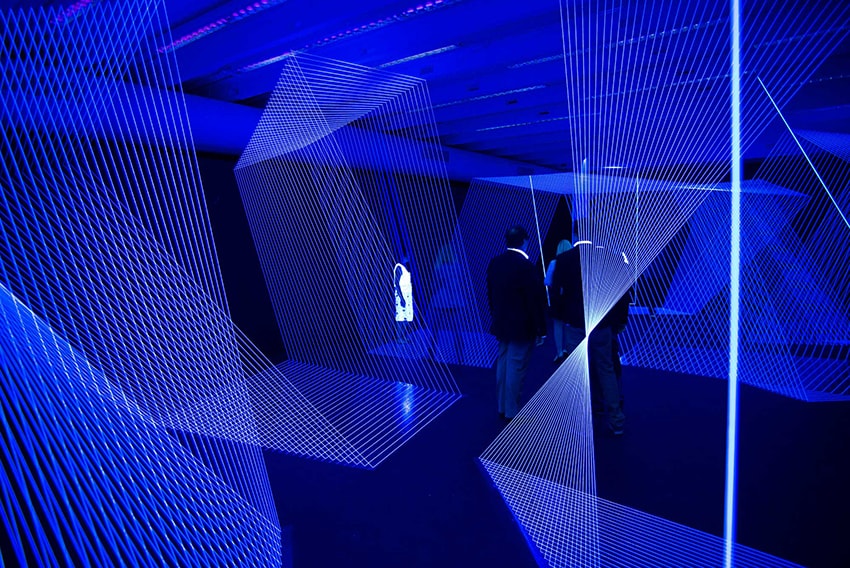 1988-1990 Master of Fine Arts in painting, College of fine arts, Sungshin University
1994-1995 Assistance in the University Sungshin
1995 To Germany
1996-2001 Studied in fine arts, College of fine arts, Kassel
2001 Graduate in fine arts, College of fine arts, Kassel
Since 2001 Lives and works in Berlin and Seoul
In the age of laser, Jeongmoon Choi uses the ancient medium of cotton thread to create his luminous environments, which are nevertheless presented using high tech. There is more than one play of illusions at work in her art. She employs a fabricated idea—something that is only to be expected in an oriental artist working in post-modern times: a combination of traditional weaving and contemporary technology, Jeongmoon Choi's case translated into the medium of ultraviolet light. This creates geometrical perspectives and total immersion is not only represented but experienced as a result.
Born in Seoul, South Korea. Jeongmoon Choi lives and works in Berlin. As a spatial continuation of illustration, Jeongmoon Choi creates UV light fixtures with fluorescent wires. Recent solo exhibitions: in Laurent Mueller gallery in Paris (2015), Maximilians Forum in Munich (2014), Moeller Fine Art, Berlin (2013), KARST Project in Plymouth (2013). Group exhibitions: at the Saatchi Gallery in London (2013), Das Weisse Haus, Vienna (2015). As a weaver, the artist works with laser lights in her work at the International Biennial of Curitiba, creating a immersive geometric.
2015
Quake, shock, seismograph / galerie laurent mueller, Paris 2014 IN.VISIBLE / MaximiliansForum, Munich
2013
PULS / Moeller Fine Art, Berlin
Explorer / KARST Project, Plymouth
2012
DIALOGUE LINEAIRE / galerie laurent mueller, Paris (C)
Drawing in space / galerie weisser elefant, Berlin
Lines up . a recollection - Outdoor Installation / re:MMX, Berlin
2011
RAPID RABBIT – BESCHLEUNIGTE BILDWELTEN / FRISE Künstlerhaus, Hamburg (C)
Drawing in Space / ART STAYS-9. festival of contemporay art, Art Salon, Ptuj, Slowenien 2010 Nulla Dies Sine Linea / galerie laurent mueller, Paris (C)
2010
Light Drawing III / Nuvole Arte Contemporanea, Montesarchio, Italy
2007
Light Drawing I-metropolis / Gallery Gillian Morris, Berlin
Raum-Skelett / Exhibition to documenta 12, Stellwerk, Kassel
2005
5 und 5_Verstrickung / galerie weisser elefant, Berlin (C)
2003
Gallery Forum, Wiesbaden (C)
STILLE / Kunstreich, Berlin
2001
ROOM 3402 / Gallery Stellwerk, Kassel
1994
KwanHoon Gallery, Seoul (C)
1992
Na Gallery, Seoul (C)
1989
KawnHoon Gallery, Seoul (C)
2015
random thoughts of a daily light / das weisse haus, Vienna
2014
DISLIMITATION - Positions to drawing / Schloss Plüschow, Plüschow (C)
2013
Red Never Follows / Saatchi Gallery, London
Athens Video Art Festival / Samourka Foundation: Estia Emporon, Athen
Photography Playground / Opernwerkstätten, Berlin
Slick Art Fair Brussels / Wild Gallery, Brüssel
Lineare Resonanzen / galerie weisser elefant, Berlin
Unliniert / Kommunale Galerie – Rathaus Tempelhof, Berlin
2012
Slick Art Fair Paris, Paris
On Lines / Kunstraum t27 - Kunstverein Neukölln, Berlin
2011
NACH STRICH UND FADEN / gallery fruehsorge - contemporary drawings, Berlin
Ἀράχνη / ARÁKHNÊ: De fil en aiguille dans le dessin / galerie laurent mueller, Paris
Die Linie überschreiten. Eine Zeichnungsausstellung / Schau Fenster. Schauraum für Kunst, Berlin 2011 Spuren und Sichten / kunstraum t27 - Kunstverein Neukölln, Berlin
Ausstellung in Kunstraum Decastro / Kunstraum Decastro, Dreieich
AMARCORD / Fellini Galerie, Berlin
8. Berliner Kunstsalon / Uferhallen, Berlin (C)
Cash & Carry / ex-MMX, Berlin
2010
Show VII / MMX- Open Art Venue, Berlin (C)
Blickwechsel-NRW Ausstellungsprojekt / Stadtbücherei, Sankt Augustin (C)
Kunstfestival "WAHRSCHAU-VINETA" / auf der BLEICHEN, Hamburg-Veddel (C)
Beste Lage / galerie weisser elefant – Refugium 2, Berlin (C)
Winter / Milchhof-Pavillon, Berlin
2009
6. Berliner Kunstsalon / Humboldt Umspannwerk, Berlin (C)
Kic-Nordart 09 / Calshütte, Rendsburg-Büdelsdorf
Light Space / galerie weisser elefant, Refugium2, Berlin
ANONYMOUS DRAWINGS-ARCHIVE SELECTION / fruehsorge - contemporary drawing,Berlin
2008
WEISS / Stiftung Starke, Berlin
Niedenfadenverlieren / Tapetenwerk, Leipzig (C)
ANONYMOUS DRAWINGS #9 / Kunstraum Kreuzberg / Bethanien, Berlin
2007
Light Drawing II / Kunstherbst Berlin 07 – boulevArt2, Europa Center, Berlin
Sneak Preview / Gallery Gillian Morris, Berlin
Jeongmoon Choi, Mi-Sook Kim, Hyun-A Kim / Culture center, Korean Embassy, Berlin
2006
3. Berliner Kunstsalon - Gallery Gillian Morris / Arena – Magazin, Berlin (C)
Stadt der Frauen – Frauenmuseum Berlin / Kommunale Gallery Berlin
GEZEICHNET / galerie weisser elefant, Berlin
RESERVOIR X / Grosser Wasserspeicher, Berlin (C)
2005
FENSHUI / Sungshin University Museum, Seoul (C)
NEUE PRODUKTE I / M3 Kunsthalle, Berlin
NEUE PRODUKTE II - offene Ateliers / Marienburgerstrasse 5A, Berlin
2004
The 14th Kunstmesse / Frauenmuseum, Bonn
2003
Naturbeobchtungen / engler & piper projekte, Berlin
Project - open studio 2 / Marienburgerstrasse 5A, Berlin
2002
Project - open studios / Marienburgerstrasse 5A, Berlin
2000
My world is not enough - Missing fields / Museum Fridericianum, Kassel
Kunst Korea Kassel / KulturBahnhof - Südflügel, Kassel
1999
Artist Festival - KulturBahnhof / KulturBahnhof - Südflügel, Kassel
Natur - Mensch / National Park, St. Andreasberg (C)
Jeongmoon Choi, Kyungah Moon, Hyeyean Ra, Sungmin Kim / Gallery Stellwerk, Kassel
1994
Allegory / Chungnam Gallery, Seoul (C)
1993
'93 Korea Youth Art Festival / Kongpyong Art Center, Seoul
'93 VISAVIS / Dansung Gallery, Seoul
Printing - Painting / Sonamoo Gallery, Seoul
Walking Men / Kwanhoon Gallery, Seoul
Allegory / Na Gallery, Seoul
1992
Sensibility - Reaction / Hansun Gallery, Seoul
The age of vision / Chungnam Gallery, Seoul
Human - History / Dansung Gallery, Seoul (C)
Seoul - Sapporo / A City Museum, Seoul City Support (C)
Walking Men / Kwanhoon Gallery, Seoul (C)
1991
Contemporary Art - New Paradigm / Na Gallery, Seoul (C)
Allegory / Na Gallery, Seoul (C)
Walking Men / Kwanhoon Gallery, Seoul (C)
1990
NOTICE - 4MEMBERS / Now Gallery, Seoul
New Form 1990 / Yoon Gallery, Seoul (C)
Walking Men / Kwanhoon Gallery, Seoul - Dansung Gallery, Taegu (C)
Painting 1990 / Chungnam Gallery, Seoul
A relative Sympathy / Doll Galery, Seoul (C)
1989
New Artist's Exhibition / Gogoong Gallery, Seoul
Impulse - Will / Chungnam Gallery, Seoul (C)
Arirang Environment Art Exhibition / Olympic Sculpture Park, Seoul
UNTITLED Exhibition / Kwanhoon Gallery, Seoul
Allegory / Kwanhoon Gallery, Seoul (C)
New verification & confirmation / Doll Gallery, Seoul (C)
Exhibition of Contemporary Artists of the late 1980's / Young Artists Gallery, Seoul 1988 The 9th VALPARAISO Biennale / Valparaiso, Chile (C)
1988
NOTICE - 5MEMBERS / Kwanhoon Gallery, Seoul
The Contemporary Arts - 13 Wo - Artists / Doll Gallery, Seoul (C)
The 14th Independents / National Museum of Modern Art, Kwachun (C)
Artphilein Foundation, Vaduz, Lichtenstein
Essl Museum, Klosterneuburg/Vienna, Austria
Mikulov Collection, Mikulov, CZ
Museum Colecção Berardo, Lisbon, Portugal
National Gallery, Prague, CZ
Prague City Gallery, CZ